Here's a riddle for you.
Who owns 200+ pairs of high heels and suffers from low back pain?
This girl:
I LOVE high heels. I NEED high heels. (side note: my husband tells me I use the phrase "I need it" too much. Don't know what he's talking about). I feel like high heels were MADE for girls like me. God blessed me with short, stubby legs and a torso long enough to make me think I have extra vertebrae. I NEED the length that high heels offer my short legs.
But let's talk about what high heels do to our bodies from a mechanics stand point, and how that can result in pain in strange places (not just our toes).
First, we need to think of our bodies in terms of lever arms, joints, forces, and vectors. Remember physics? Remember Newton? His third law stated, "For every action there is an equal and opposite reaction."
Let's keep this in mind.
There's a million and one ways high heels change the orientation of our posture and movement, but I am going to focus on 3 for today.
1. Due to the upward force of the actual heel (aka the stiletto), the posterior part of our pelvis is raised. This is awesome for the booty. This exact effect is what I believe inspired Sir Mix-a-lot's song, "Baby Got Back." If Newton's third law is correct (which it is), then there must be an opposite reaction from our upper body so we don't get thrown forward. We have to lean back to keep our shoulders over our hips. This causes an extension force on our low back, and subsequently pain if this position is maintained for long periods of time. You can see this happening to Kim Kardashian when she tries to figure out how to pump gas.
2. Keeping in mind that the posterior part of our pelvis moves UP due to the force of the heel, the front part of the pelvis must move DOWN. The muscles on the front part of the pelvis that connect the pelvis to the femur (thigh bone) are subsequently placed in a shortened position. No big deal if this is for one night, but over time, shortening of these muscles feeds into pulling the pelvis forward even when we are just in our slippers at home! Pulling the pelvis forward causes that extension force in the low back we talked about in #1. Ouch.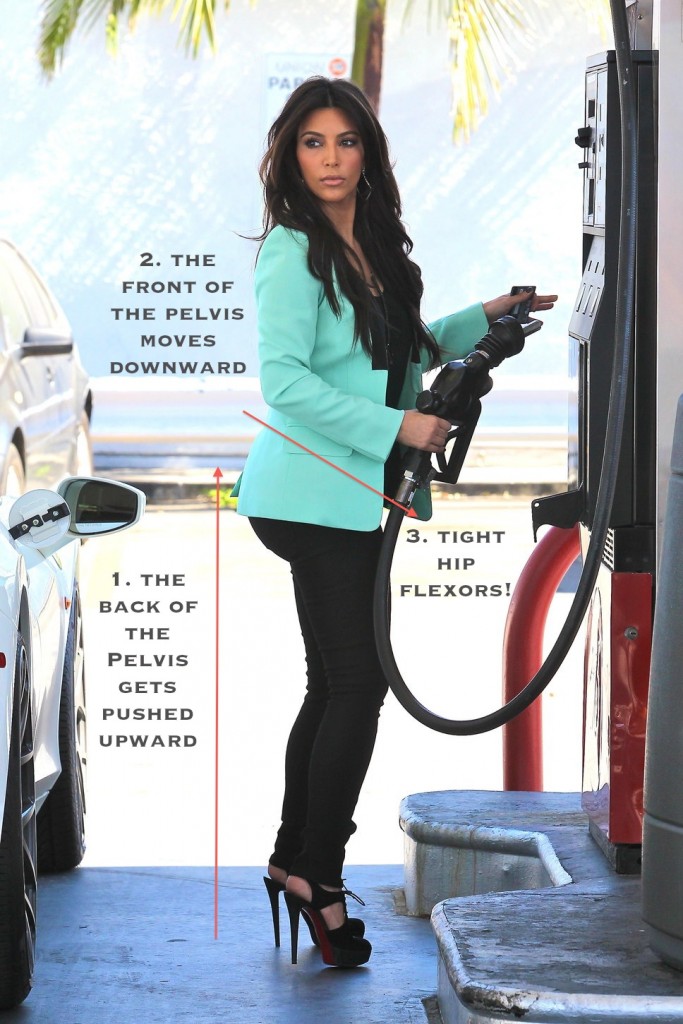 3. The third and most obvious consequence of high heels is that they shorten our calf muscles. Again, this is pretty awesome when we feel inclined to wear heels after that killer calf workout so we can show off the definition we worked so hard for. Thank you, heels, for making my stubby legs look fake-muscular. But once we take those heels off, the shortened calf muscles pull our knees backward, likely causing hyperextension. Do you know a female over the age of 50 who has had a knee replacement? You can tell her to thank her knees for all that hyperextension in her youth. At least now her new metal knees give her an excuse to avoid the metal detectors in the airport. Oh, but unfortunately that results in an awkward pat-down. It's a lose-lose.
So there you have it. High heels cause our backs to extend, our hip flexors to shorten, and our calves to pull our knees beyond where they should be.
But, if you're like me, you can't give up heels completely. We NEED them, right? So wear heels in moderation and live by my mantra: Save heels for the weekends.
Cheers to being female.