Davey proposed on March 9, 2013 in a chapel of St. Elizabeth Ann Seton Catholic Church in Carmel, IN after mass. Some of my closest friends were in town from Washington DC, Atlanta, GA, Chapel Hill, NC, and Athens, GA; they were there and all surprised as well when Davey got down on one knee. It was awesome to share that moment with all of them.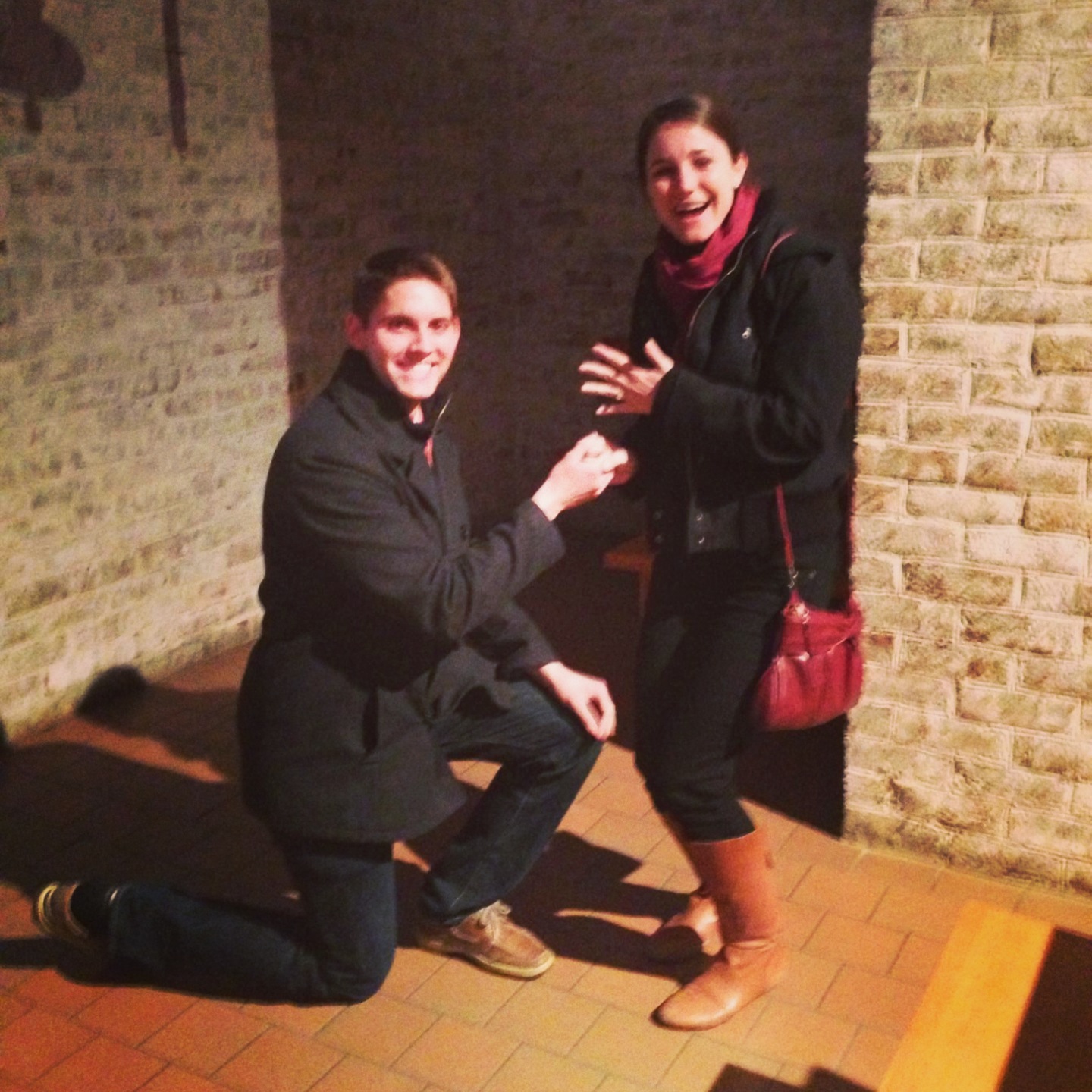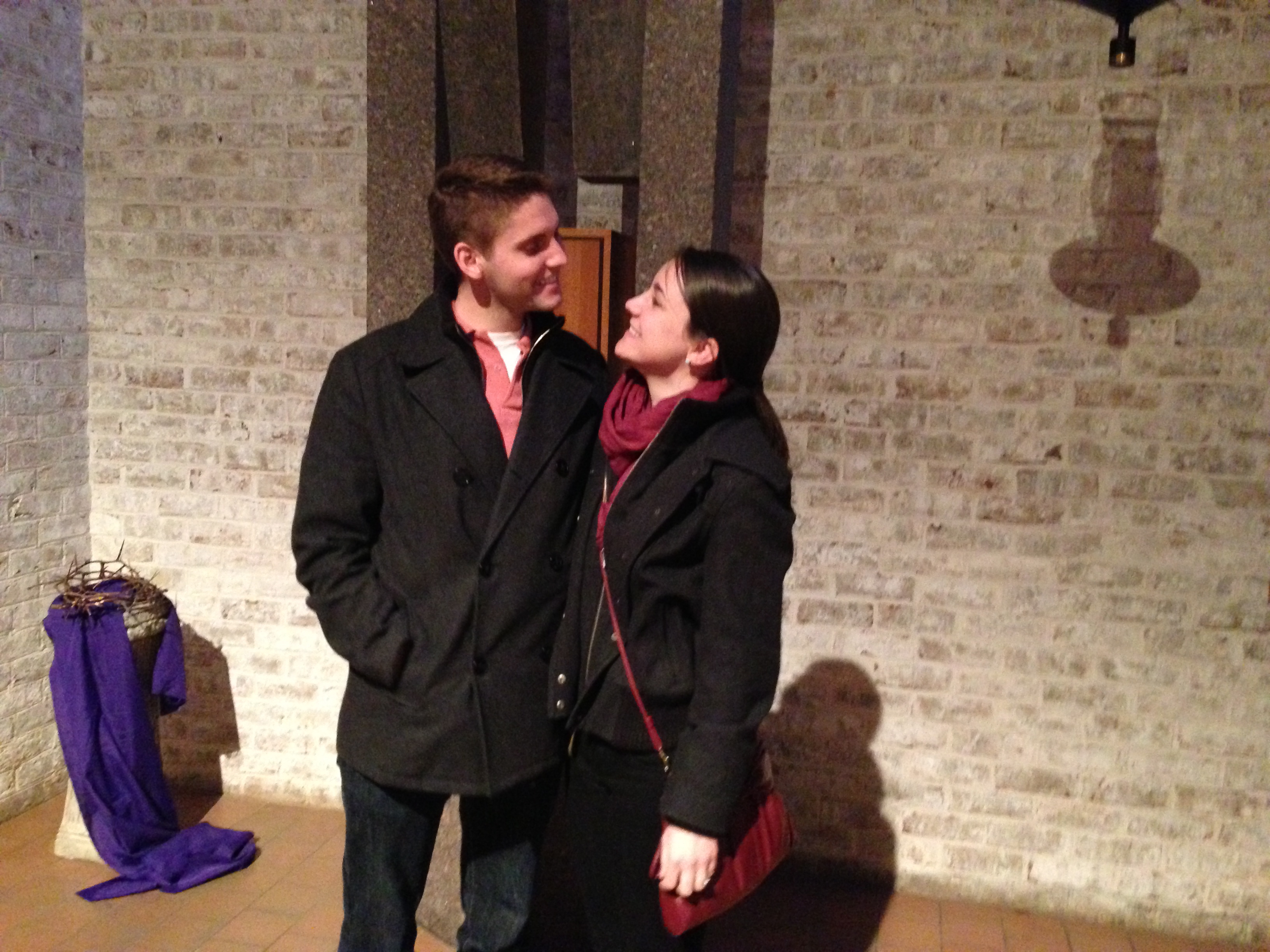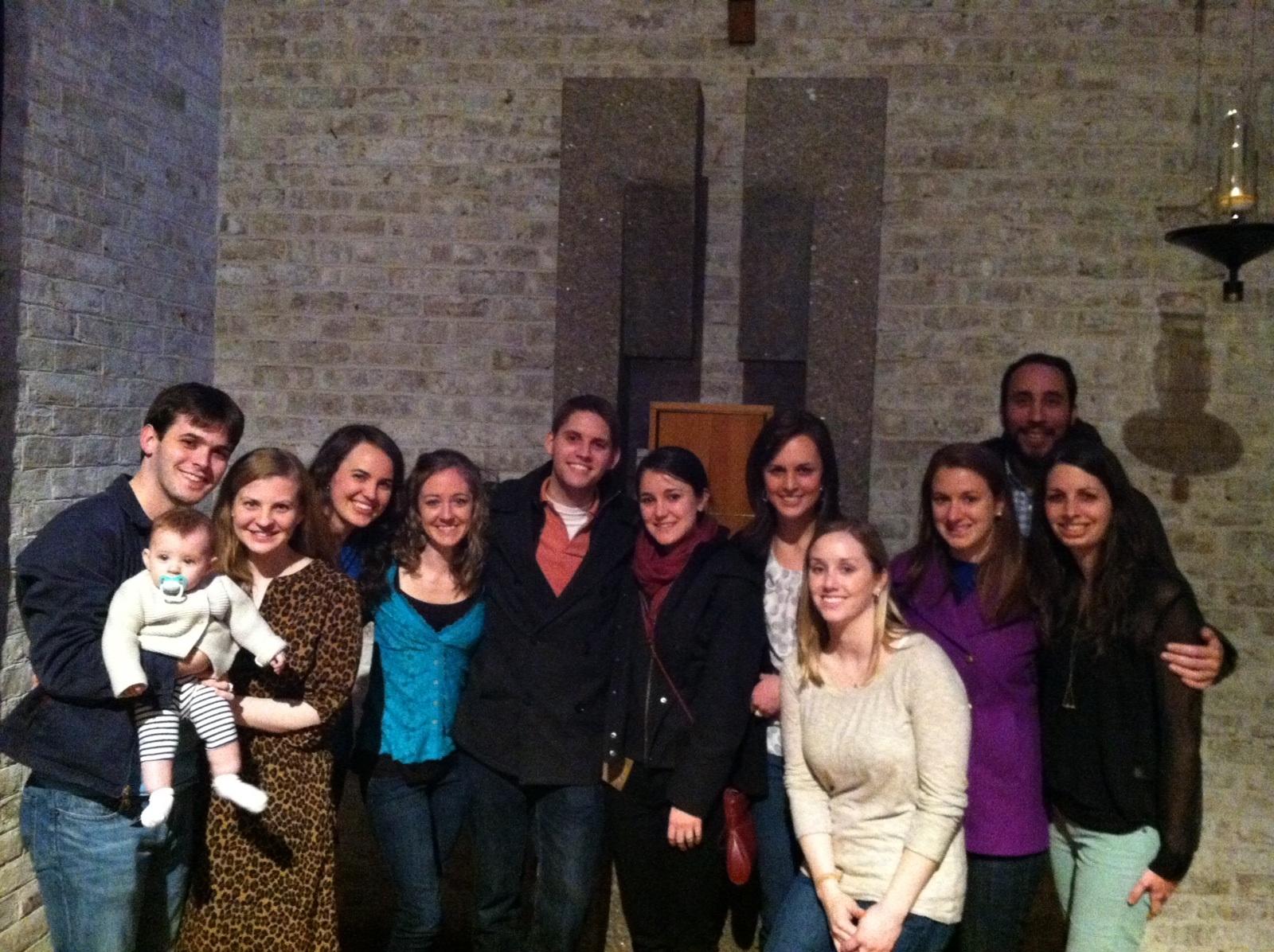 Of course, if Davey was going to marry me, he had to propose to all the girls (he knew what he was getting into):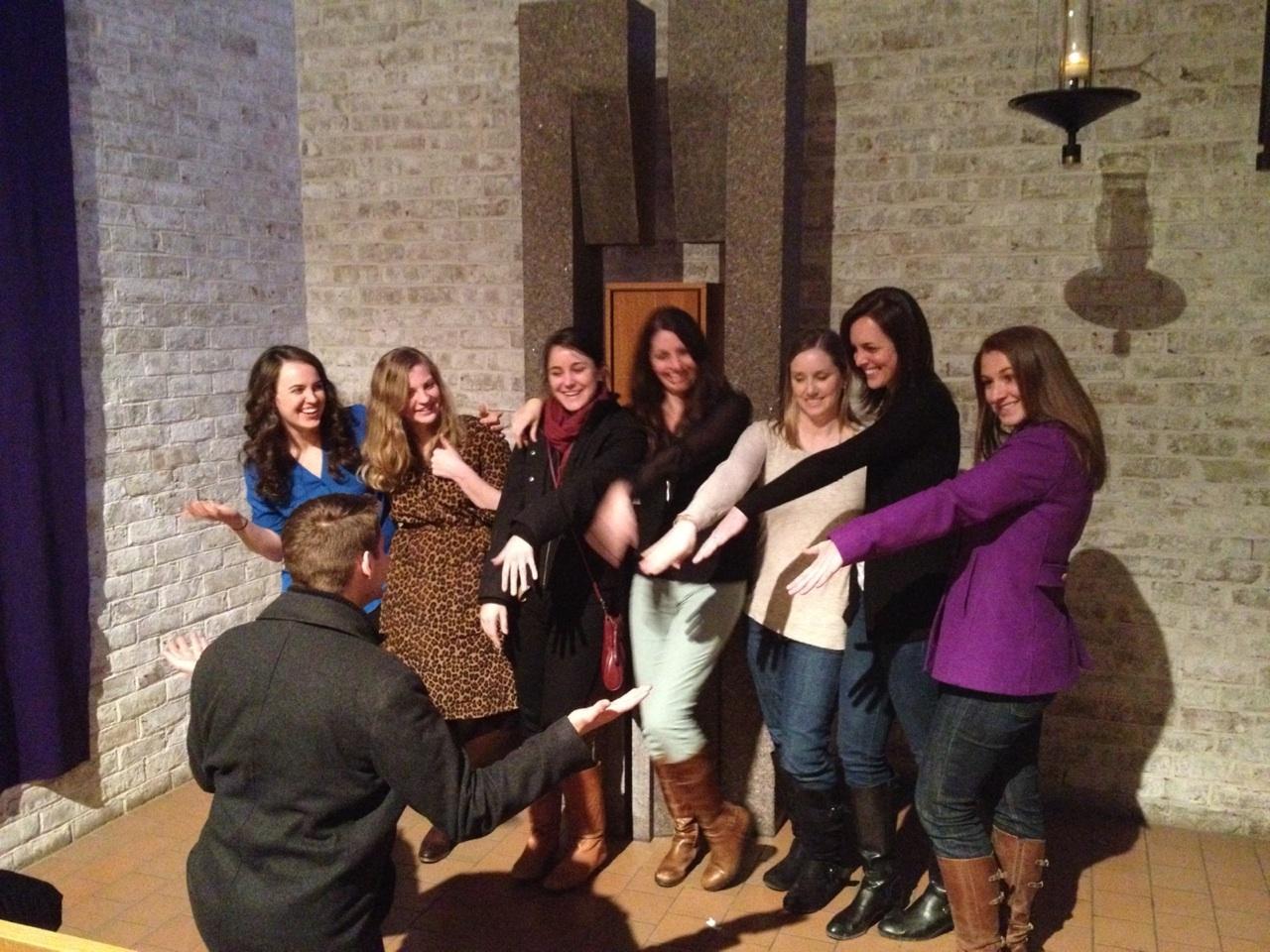 I am not the event-planner-type. I hate to-do lists. I hate decisions. I hate looking at color samples. (side note: I also hate waking up in the morning) So planning for a wedding was a little frightening at first. But Davey and I constantly reminded ourselves that we weren't planning a wedding; we were planning for a marriage.
In that respect, being engaged was SO FUN. We loved our pre-cana retreat. We loved talking about our futures together. We loved reading Karol Wojtyla's Love and Responsibility. We loved thinking about the Sacrament we were entering into.
With our focus on planning a marriage, wedding planning seemed easy-peasy (for the most part). A lot of decisions we just made on a limb. For example, we never met our cake-baker or did a taste testing. We never met the singer for our wedding ceremony. The first time I heard her voice was during our mass (she was from another church).
We focused on the things that were important to us. I think one of the first things we did was choose the mass readings and songs. We wanted to the ceremony to be prayerful.
After that, making sure our guests would be able to feel how grateful we were for them supporting us was a priority. We made personalized favors by writing their names on coffee mugs and firing them in the oven. It's been so fun getting text message pictures of my friends on snow days sipping hot cocoa, coffee, and hot toddy's.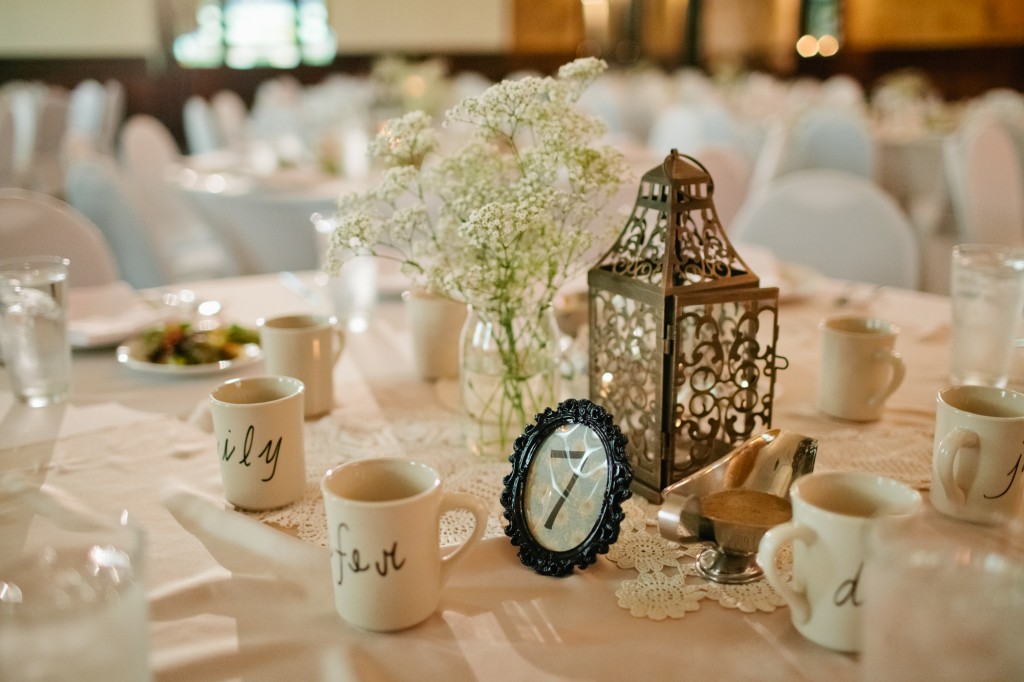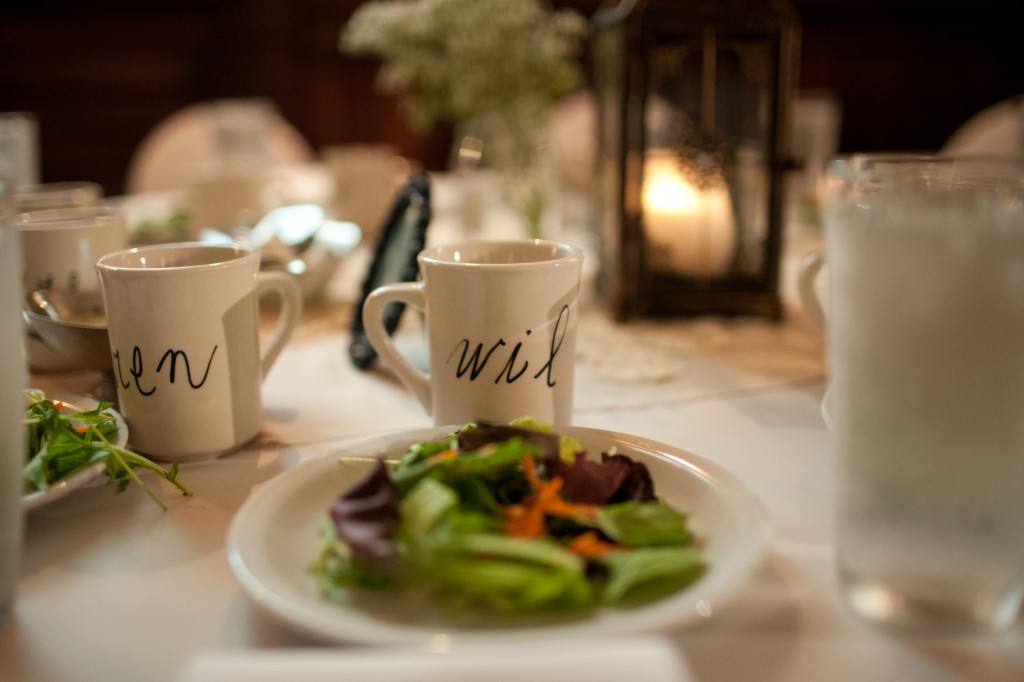 We also wanted to capture the day in a beautiful way so that we could show our future generations how it all started. This involved finding a good photographer and a good videographer. Mission totally accomplished in that department.
And honestly, that was really all for the "important things."
By the way, our cake turned out AWESOME. And the wedding ceremony singer–loved her.
I learned a lot during the engagement period. First of all, through a lot of prayer, I learned how to surrender my life to someone else. Marriage requires selflessness, and I prayed for it in preparation. My grandma told me that if I always focus on Davey's happiness, then I will in turn always be happy. It has not been the easiest thing in the world to dedicate my life to someone else's happiness–but my grandma was right. I feel the most joyous when Davey is happy. I learned how to let go of what I want, and focus on what Davey wants. I am lucky enough to have a husband who tries to make me happy as well. This is something I know we both work hard on everyday.
Second, I learned that when we are not focused on our faith, the worldly things become overbearingly important. The days I found myself stressing out about the color of the bridesmaid dresses or the fact that Macy's could not for-the-life-of-them send us the right ties that we ordered for the groomsmen…well, those were the times I was losing focus on what the wedding was representing and what marriage was about. This lesson also comes up in day to day things as well. I find myself stressing about what we should make for dinner, why my car won't start, how we should decorate our new house, etc, etc. It's so easy to lose focus of the "point of it all", and admittedly I sometimes use worldly distractions if I am not doing a good job of focusing on Davey's happiness. I am thankful to have learned how to recognize this when we were engaged.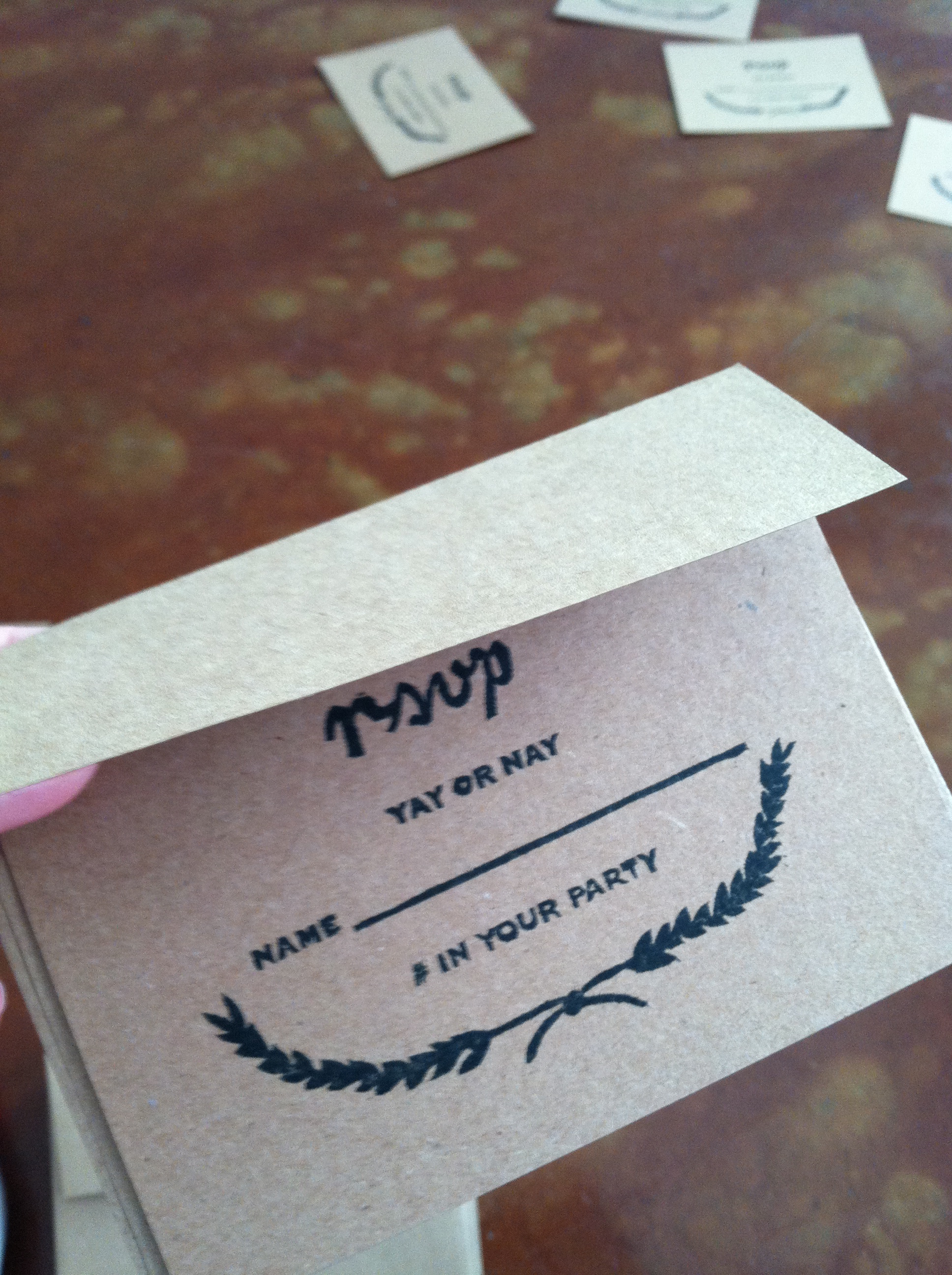 Lastly, I learned that love is an opportunity. To fall in love is happenstance. But to choose to love someone for the rest of his/her life is to take a risky opportunity to participate in the essence of the world's joy. I am grateful everyday to have been blessed with the courage to take this amazing opportunity.