Postpartum has been a long road. And not the kind of "oh, what a journey…" road. The first days after Seton's birth I didn't so much want to roll over in bed. I was definitely not dreaming of tying up my shoelaces and going for a run. But eventually, albeit after many weeks, I found myself promising the exercise gods that I would never complain about working out again as I watched Netflix count down to the next episode of my TV marathon in utter disbelief that my current state of life existed on a couch. Being restricted from doing something just makes you want to do it, right? I longed for the feeling of my tennis shoes hitting pavement, my heart beating through my chest, and my frequent breath mixing with the fall air.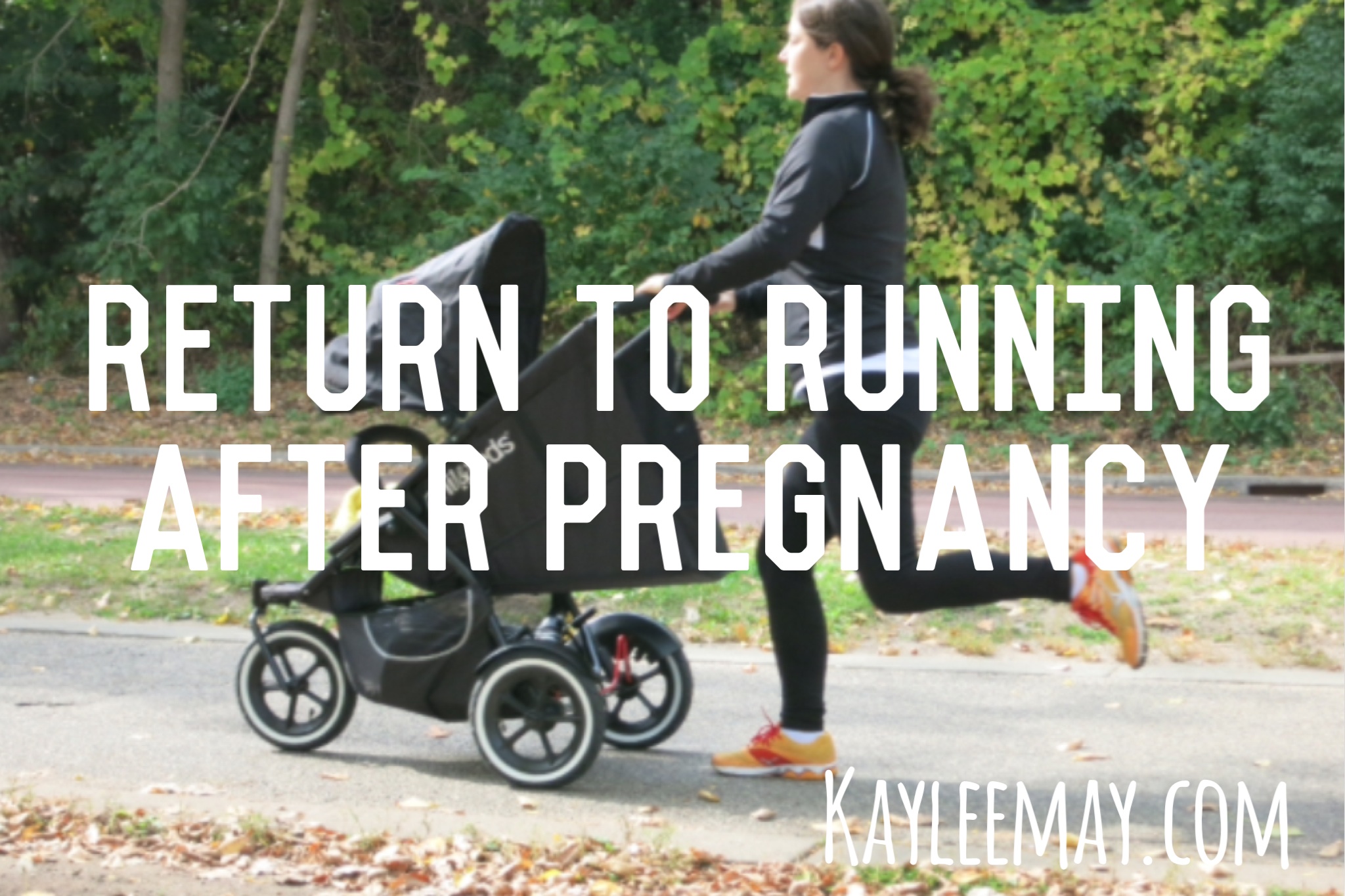 We may be anxious to return to running after pregnancy, but it's important to make our comebacks gradual. Lots of changes just happened to our bodies and, as mothers, we now need our bodies to take care of our babies. Being injured isn't an option.
To prepare for running, I encourage you to strengthen your abdominals and pelvic floor muscles through the abdominal progression and pelvic floor exercise progression I recommend. Having strong abdominals for running can reduce the risk of injury to our backs, hips, knees, ankles, and even should girdles and necks! The abdominals will work to stabilize our backs and pelvis to allow the limbs to generate movement for each step.
I also encourage you to strengthen your gluteals. You should do this the same way I recommended doing it throughout your pregnancy: by performing Hip Abduction with Lateral Rotation ("The Clamshell"). You can read through the steps in my post Top 3 Exercises Every Pregnant Woman Should Do.
When you feel as though your abdominals and pelvic floor muscles are strong enough that you can keep them contracted throughout the course of the day (even when going up/down stairs or getting up for the floor while holding your baby), you are likely ready to begin a running progression. Make sure your doctor has cleared you to exercise!
To begin, start with running and walking at one minute intervals, aka run a minute, walk a minute. Prior to pregnancy, I told my patients to do this for 30-minutes. But, now that I am experiencing the joys of postpartum first-hand, I recommend doing this for as long as you can up to 30-minutes. I started my progression (ahem, last night) and barely made it to 18 minutes. I walked that last 12 minutes telling myself, "whatever, I'm strong…I pushed a human out of my body!" as I somehow heard my heart beating the way you do after an insane workout.
Since you are only running one minute at a time, use the minute to focus on running with good form. After pregnancy, our bodies will forget we have abdominals and gluteals, so we will be relying on muscles like the tensor fascia lata (TFL, which is the muscle that controls the infamous IT band) that can lead to injury. Focus on contracting your abdominals. Review my post Improve Your Running Stride Part II: The Gluteals which will help you use your gluteals to improve your stride.
Once you hit this walk/run cycle for 30 minutes, start aiming for running 2-minutes, then walking 1-minute up to 30-minutes.
Add a minute to your running spurts when you feel ready (should be every three to five runs), and so on.
Keep in mind:
Do not push yourself too quickly. Your muscles need time to catch up to what you are asking your body to do.
Do not set time goals until you are confident you can run with good form.
If you're having unusual aches, pains, or … ahem, dare I say leaking, talk to your physical therapist.
And, lastly, you may want to wear two bras.
This was my reaction to finally getting the green light from my doctor to exercise:
Hopefully you enjoy you first run back as much as I did.
***The content of www.kayleemay.com is for informational purposes only. The information presented is not to be taken as professional medical advice, diagnosis, or treatment. If you are having pain, or seeking medical advice, talk to your health care provider. Do not delay in seeking treatment because of information you have read on www.kayleemay.com. Taking recommendations presented on www.kayleemay.com is solely at your own risk***