When Davey and I went to Babies 'R Us to set up a baby registry, I was hormonal and overwhelmed. We left as soon as I saw the carseat department and realized I AM ALREADY A TERRIBLE MOM BECAUSE I NEVER RESEARCHED WHICH CARSEAT IS THE BEST, AND I AM ALSO CRAVING A TACO RIGHT NOW. I felt like it would never be possible to research the best stroller, the best car seat, the best crib…you get the point. Davey still laughs about it.
I ended up completing the full registry online while snacking on Taco Bell. I allowed myself to look at ONE PAGE of options. Babies 'R Us has 4 pages of carseats with 24 seats to a page! WAAAAAY too many choices.
Here's where I share with you our favorite baby gear we have used over the past year.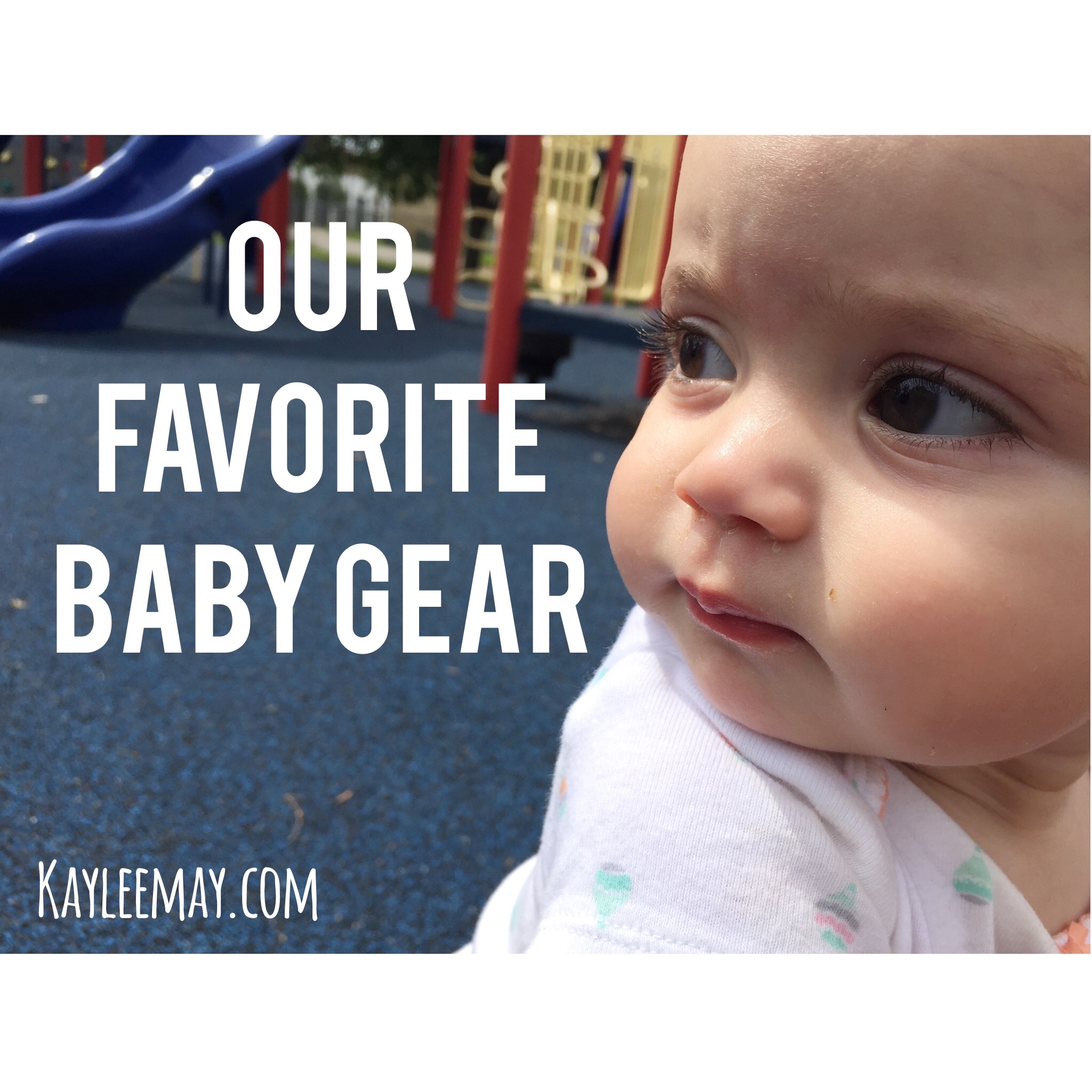 The stroller || They see me strollin'…they hatin'… Davey came home with this stroller from clearance at Babies 'R Us when I was about 6 months pregnant. It was about 75% off–awesome deal–but I was worried because everyone told me I would want to fit my carseat right to the stroller. I wasn't able to find a good adapter for our Chicco car seat we had already gotten. But, guess what? It never mattered. We live in a walkable town, so we rarely drive somewhere to walk. We just head out our front door. I have never really been in a situation where I wanted to transfer her from the car seat straight to the stroller. All in all, I am so happy with the stroller. It runs well, walks well, and even hikes well on uneven ground.
The car seat || Our little peanut still fits in this car seat. We have never had any issues. The base snaps easily into the car seat buckles in both our cars (we each have a base so either one can pick her up from day care).
The crib || If you know Davey, you know he likes a good deal. We found the best deal by ordering our crib from Walmart.com. It included a mattress and free shipping right to our doorstep. I wanted something fairly light (some cribs are so bulky), simple, and easily converted to a toddler bed. I was worried about the mattress, but so far so good. Seton isn't complaining. 😉
The Baby Carrier || One of my coworkers gave me a hand-me-down Moby wrap that has worked quite nicely. I also used the K'tan which I really liked until Seton was around 8 weeks old, and it got too small for her. It's a fixed amount of fabric (The Moby has loose ends you tie), so as Seton grew and the fabric stayed the same size, it no longer worked. If we have another baby, I might try the Ergo because I have heard good things. I imagine I will use a carrier more with the second since I will need my hands free for Seton.
The Swing || I am a huge advocate of not putting your baby in a "container" all the time (exersaucers, swings, jumpers, etc) but I am also a HUGE advocate of Happiest Baby on the Block (best thing EVER we will swear by it to everyone we know) where I learned that the swinging motion is calming and natural for babies. I used a swing similar to this one from 0-3 months (the '4th trimester') to soothe Seton. I only let her in there for short periods and never let her sleep in it all night. It was a sanity life saver.
The pack 'n play || This is our exact pack 'n play that we have LOVED. The first few weeks of life, Seton slept next to our bed in the "newborn napper," then transitioned to the "bassinet" around week 5, then to the crib (above) by week 8. With each transition, I would worry that she wouldn't sleep well. She did fine! It also packs up easily for travel. Every baby is different though; this is just what ended up working for us.
The swaddle || One reason she transitioned so well was because swaddling was a sleep cue for her the first 3 months. We used this swaddle and followed the guidelines from Happiest Baby on the Block….and she was the happiest little baby on the block. We stopped swaddling at 3 months.
The diapers || Have I mentioned my husband loves good deals? He has compared the prices of Costco, diapers.com, Walmart, Target…and the cheapest diapers are….drum roll, please…Babies R Us brand diapers. Shocking, I know. I would have never thought. It's not really "baby gear", but just thought I would share.
What's your favorite baby gear? Anything I am missing or should know about?